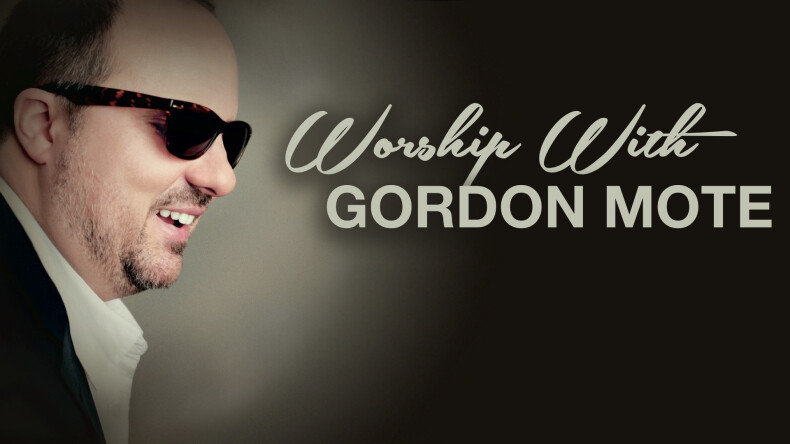 Gordon Mote will be leading the Sunday evening worship service on September 17 at 6:00pm. Though blind since birth, it seems the Lord blessed Gordon with profound musical talent in lieu of vision. In 2020, he sang the song Love, Love, Love which gave us our theme for the year ... I Love My Church!
As a young man, Gordon became one of the first blind students in the country to be mainstreamed into the public-school system and later received a full scholarship to Jacksonville State University in Jacksonville, Alabama. After three years at JSU, he transferred to Nashville's Belmont University and graduated with honors. Two days after graduation, Country music legend Lee Greenwood asked Mote to join his band.
Greenwood became the first of many popular entertainers with whom Gordon has shared the stage over the past three decades, including Trisha Yearwood, Tanya Tucker, Porter Wagoner, Bill Gaither & the Gaither Vocal Band, and most recently, popular Southern Gospel quartet, Canton Junction.
In addition to touring with these legendary musicians, Gordon has enjoyed an illustrious solo career. His eleven albums have blended Country, pop, and Gospel influences to earn multiple Dove and Grammy nominations. His latest recording, Love Love Love, garnered Mote a second Grammy nomination for Best Roots Gospel Album.
For any other aspiring musician, these blessings would be more than enough. But the Lord opened even more windows for Gordon to become one of Nashville's most sought-after studio musicians. His big break came when fellow keyboardist Hargus "Pig" Robbins (who also happens to be blind) asked Mote to fill in for him on a session for Country superstar Alan Jackson. That recording session yielded Jackson's iconic 9/11 tribute song, "Where Were You When the World Stopped Turning?" Mote's keyboard genius has since graced recordings by Brad Paisley, Blake Shelton, Martina McBride, Bob Seger, Rascal Flatts, Sheryl Crow, Carrie Underwood, Lionel Richie, Josh Turner, Darius Rucker and Alison Krauss, just to name a few.
Join us for a special evening of worship with Gordon as he returns to Valley Forge for this special service.